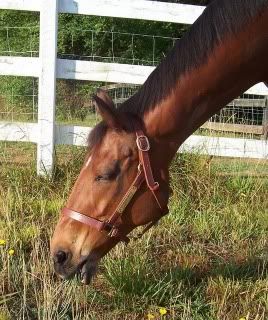 Of course I didn't want him to run at all, but this past weekend was the first time I let him off loose in a paddock. I started him off hand grazing in the riding ring and then eventually took his leadrope off- as you can see he didn't really even notice :-) Each time I let him off he was perfect,
no running, no fussing- just grazing and walking. I would then move him to the "red barn" paddock and he would do the same.
But when John and Laura turned him out in the "red barn" paddock last night he was NOT the perfect boy- he rolled, he ran, he crow-hopped :-x. So they immediately caught him and brought him back in... Baaaaaaaaaaaaaaad boy.
Believe it or not Lester is even MORE spoiled than he was before :-/. Since I have been handgrazing him on the best grass of the property he isn't at all impressed what is in the paddocks. I had him out for 2 hours this AM and he was waiting by the gate ready to come in!
I believe today he is getting his bloodwork done and having one staple that was missed in Auburn removed...