This post will be written from Lester's point of view.
Da weekend wuzn't really excitin. OMG can I eat that?? Oh, itz just an orange pen thing...I thots it wuz a carrit...Mom did'ent do a lot wich meh. Cept she kep put'n stuffs in meh left eye. I gots dirt or hays in it and it wuz kinda swollen and I wuz keep'n it close'ed most of da time. She trick'ed meh tho, I thot I wuz gonna jus eat grass'es and she spray'ed waters inta meh eye! @#@%$%! It wuz a lite mist, but stills, I did'ent like it. OMG can I eat that?? Oh, itz just da orange pen thing agin...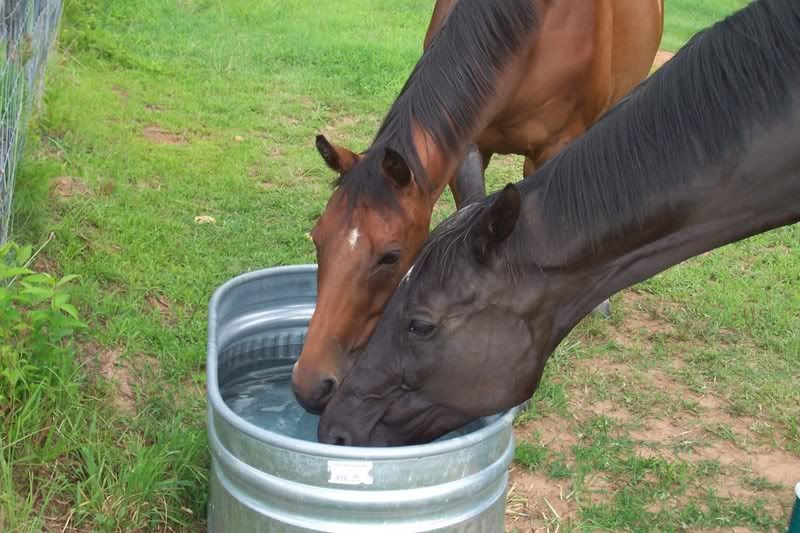 Dis meh big blak geld'n Fella. I let him drink meh waters a lil bit, then I chases him off jus cuz I can;-) I jus hafta pin meh ears back and make an ugly faces an he gits all scared, ha ha. He hurt'ed hiz leg an I swears I had nothin ta do wich it.
I needs new shoes. I hears Ronnie, meh shoe man will cum dis Weds, I can't waits ta lik his ears an try an eats hiz hat, he luvs wen I does dat. He talks funny too, like insted of sayins "fire" likes fi-er he sez fer-er an "shower" he sez sha-er, mom laffs at him a lots...
OMG can I eat ...oh nevermindz.
Oh I wants to give a big shout outs to meh friend Paul da Mule, we be good penpals now.